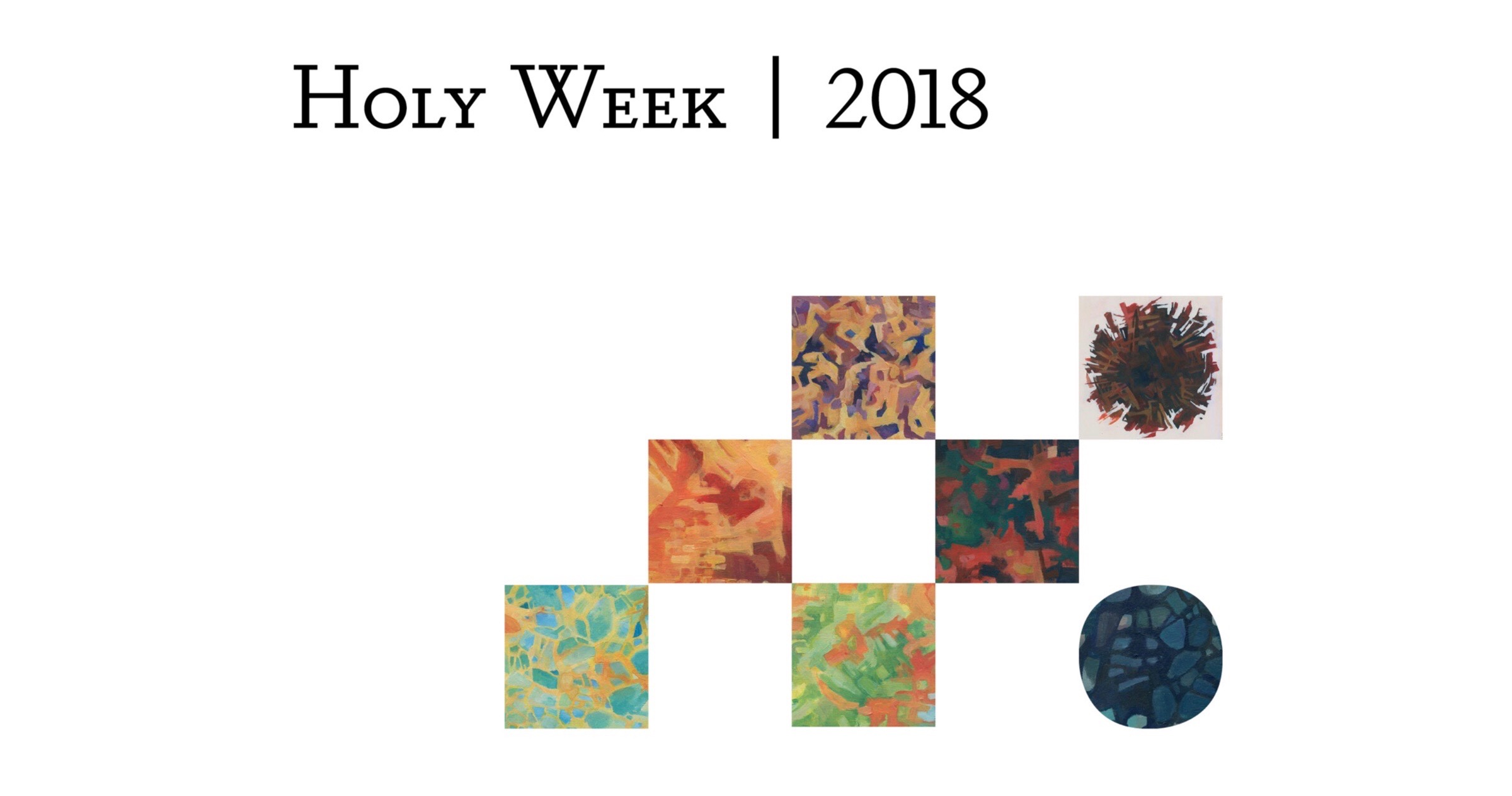 Walking With Jesus To The Cross
The artists at Immanuel have created a reading guide for Holy Week. Click below to view/download.
Join us for Holy Week 2018:
March 25 | Palm Sunday: 9AM & 11AM
Palm Sunday is the day we commemorate Jesus' arrival in Jerusalem, when he was greeted by a crowd saying "Blessed is he who comes in the name of the Lord!" and waving palm branches. We celebrate that Jesus is the King who was promised to God's people, Israel. On this first day of Holy Week we remember that though he entered Jerusalem triumphant, Jesus' true triumph would occur a week later, outside the city's gate, at the site of his execution.
March 29 | Maundy Thursday: 7PM
Maundy Thursday is the day in which we remember Jesus' final night with his disciples before his death. On that night Jesus washed his disciples' feet and shared bread and wine with them. At that time he instructed them to do likewise after his death. On Maundy Thursday, we obey this instruction by washing one another's feet and sharing communion. "A new commandment I give to you," Jesus said on that night, "that you love one another. Even as I have loved you, you also should love one another." At this commemorative service, we ask God to give us the love which he commands of us.
March 30 | Good Friday: 7PM
Good Friday is the day on which Christians commemorate Jesus' death by crucifixion. The service is a time to meditate on the cost of God's love for us, a love which kept Jesus nailed to the cross. The story of the Passion is told and a cross is placed in the center to remind us of what Jesus endured to rescue us from our sin. The darkness of the sanctuary and the silence which follows the service are reminders of the darkness which accompanied Christ's death and the silence of his grave.
April 1 | Easter Sunday: 9AM & 11AM
On Easter Sunday (and throughout all of Eastertide!) we continue to celebrate the memorial of Jesus' victory over death. We rejoice that, in the words of Augustine, Christ "took death upon himself and slew it with the abundance of his life." We rejoice too that after his resurrection Jesus returned to his friends, the disciples, so that they might believe in him again and have the life that is his. As we remember the forty days Jesus spent preaching good news before ascending to the Father, we pray that God would give us joy to speak about the good news of the Life that has conquered death.
Childcare will be offered at all services except the 11am services on 3/25 and 4/1. All services will be held at Uplift Community High School (900 W Wilson Avenue), and parking is available in the school parking lots (900 W Wilson and 914 W Eastwood Avenue) or on the streets.